Welcome to the Wiki
Edit
Welcome to the wiki. We're a collaborative community website about Civitas Nihilium (CN) that anyone can contribute to and help build our collective knowledge.
What is Civitas Nihilium
Edit
From the official website - "Civitas Nihilium is a future city, cyberpunk, deck building, dice rolling, solo-player physical card game that comes with its own unique pixel art and immersive soundtrack. You play a veteran detective working the dangerous streets of Civitas Nihilium, taking with you your choice of rookie and a ton of cybernetic upgrades. This cyberpunk universe is powered by Ion; the city and all of the advanced technology gleams of it. From the poor GleeHead gangs that use the illegal personalised diffusion techniques to get whacked-out, to the hackers of the underground elite who use the bypassed power to bring down corporations gone rogue."
Where to Find Lore and Story Resources
Edit
Check the Story Lore wiki page
And the Canon Lore Timeline -
Glossary - all the terms and words that pop up in the Civitas Universe
Locations - a quick guide of all the "places" in the Civitas Universe
Twitch Channel Streaming
Edit
James posted after the close of the Kickstarter Campaign
The Live Streaming Future...
Based on the great feedback I received from the campaign I have created a small channel on Twitch. This will be the central location for all things CN and the greater universe beyond. It will include a fortnightly live stream that will update everyone on the progress, along with competitions, news, and a monthly live stream of infamous cult retro cyberpunk video games - all will be revealed during the first live stream this Wednesday!!
The new Twitch channel for The Civitas Universe
The first schedule for April's Live Streams will be announced this Wednesday night live on our Twitch channel at 7pm BST.
Click here to create a twitch account and add yourself to our community
Click here to head direct to Wednesday's event
See you this Wednesday!!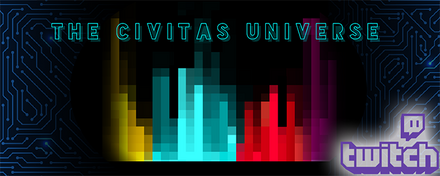 KICKSTARTER CAMPAIGN
Edit
UPDATE - the KS campaign funded!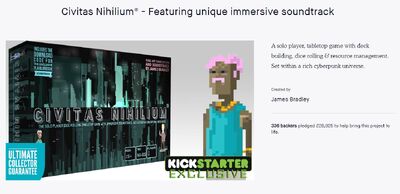 The campaign was live through Sat, March 30 2019 3:00 AM EDT. See more information about the campaign on the Kickstarter Campaign page. All or nothing.
Kickastarter Campaign Page - https://www.kickstarter.com/projects/1915482944/civitas-nihilium-immersive-pixel-art-cyberpunk-tab?ref=a570cq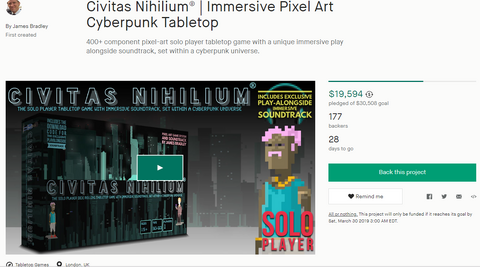 Kickstarter Campaign Floppy Disks
Edit
As part of the Kickstarter Campaign, a number of floppy disks were sent out to backers. Check Kickstarter Campaign Floppy Disks page for details.
Social Media and Websites
Edit
Initally started as Civitas Nihilium (CN), most social media sites for CN have changed to Civitas Universe -
Website - https://thecivitasuniverse.com/
Facebook - https://www.facebook.com/TheCivitasUniverse/
Instagram -  https://www.instagram.com/civitas.universe/
Twitter - https://twitter.com/CNihilium
Discord Chat - https://discord.gg/hgKcTu
Twitch Channel - https://www.twitch.tv/thecivitasuniverse/
Kickstarter - https://www.kickstarter.com/projects/1915482944/civitas-nihilium-immersive-pixel-art-cyberpunk-tab
Places to Visit
Edit
Game Rules and Mechanics - all things about the rules and how to play
Game Cards - a look at the cards
Game Creation - how was CN made, how is the Commodore Amiga involved
Game Lore/Story - what is Civitas Nihilium, who are the characters, what is the Mushroom?
Codes, Puzzles and ARG Activity - sometimes it seems there is more hidden in the CN world
News and PR - articles, podcasts and news about CN
All Pages - lists all of the wiki pages
Latest activity
Edit
Community content is available under
CC-BY-SA
unless otherwise noted.